List of Currently Manufactured Talking Boards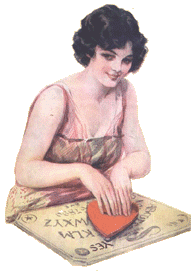 For those of you who would like to have a talking board but don't have the time or inclination to search antique stores and classified listings there is hope. Here for your approval are the best of the best in the current yield of manufactured talking boards. Whether you prefer a board from a leading manufacturer, or a custom handcrafted design, we think that you will find the attention to detail and quality that you would want in a talking board. Each is uniquely different in artistic vision and should satisfy the most demanding connoisseur. They come with our highest recommendation.
Ouija - It Glows In The Dark!
Parker Brothers Hasbro
It's mysterious! It's mystifying! It's out with the old and in with the new! Bright enough to light the darkest closet, this latest incarnation of the Parker Brothers Ouija is no disappointment. The "glow" lasts for a full thirty minutes, more than enough time to contact Thomas Edison to find out how the darn thing works! Gone is the name "William Fuld" and gone is the faux bird's eye maple design. The board and message indicator are smaller, but then, what isn't these days? The Parker Brothers Ouija is the undisputed champ of talking boards and outsells all others by a very wide margin. Find out for yourself why. Buy from Amazon
View picture
Ouija - Pink
Parker Brothers Hasbro
We wanted to absolutely hate the Pink Ouija Board but after examining it, we weren't so sure. Hasbro is either brilliant or brilliantly out of touch depending on your point of view. This is a Ouija board specifically marketed to tween girls, which answers the question once and for all: does Hasbro do that sort of thing? Yes, they do, and they do it particularly well. The board comes with a pretty carrying purse, the board and planchette, and a nifty deck of girl egocentric question cards. And it's pink. Did we mention that? The Pink Ouija is a limited edition and not likely to last, so you collectors better gobble them up. Buy one new and seal it properly for storage. There is a lot of plastic there and it's not likely to age well. Seal the board away from the plastic. There may be some transfer causing stains and deterioration otherwise. Buy from Amazon
View Picture
Ouija
Papa's Toy Co. Ltd
Papa's Ouija from Canada sports a nice design with the litho affixed to strong hardboard, not cardboard like others. The letters on the board and the planchette glow in the dark—a very nice effect in candlelight. The problem with this board, and it's a big one, is that the planchette lacks a viewing hole and is much too large for the existing design. Hitting the letters properly requires twisting it awkwardly from the top, otherwise it slides off the board. So, if you actually intend on using it, you may have to come up with another plan, or planchette, as the case may be. Otherwise, it is a solidly constructed contender. Products of Canada online will be happy to send you one. View picture
Clear Channel Board
Destined Soulmates Corporation
Ever surf a talking board with a pyramid? It's easy and fun with the Clear Channel Board. This is a large non-folding, multi-colored cardboard talking board with a very well thought out alphanumeric layout. Also on the board are multiple choice answer quick-picks reminiscent of older psychographs. Truly a joy to use is the incredibly tactile Lucite four-sided pyramid message indicator. You will never want to put it down. Tony and Donna Herrera deserve an "A" for design on this one. E-mail, or pick up the phone and call them directly at 425-861-1063. View picture
Hellboy Talking Board
Dark Horse
From Hellboy creator Mike Mignola comes two editions of his unique new Hellboy Talking Board. The moderately priced regular edition board includes a sturdy pressed paper board, a hardboard planchette, and instructions. It is nicely packaged in an attractive cardboard box adorned with Hellboy artwork. The deluxe edition is really special, so you collectors listen up. The board and planchette are beautifully finished hardboard and come in a striking velvet-lined presentation box complete with antiqued metal corner protectors. This is an absolute first for a mass production talking board. Also supplied are instructions, a planchette carry sack, and a certificate of authenticity. These boards are only available through limited suppliers. Search Amazon
View Deluxe Edition
Buffy the Vampire Slayer "Conversations with Dead People" Board
Dark Horse
This is the board to buy if you are a Buffy fan, a collector of talking boards, or if you just need an attractive alternative to the Parker Brothers Ouija board. It's stylish in a medieval sort of way and the arcane sigils on the board suggest that you will contact whatever you are seeking, be it vampire or spirit. Fully themed box and planchette compliment this quality set. Like Dark Horse's Hellboy Talking Board, this is an instant classic. Dark Horse knows their stuff. We suggest you buy one
before they sell out. View pictures
Pathfinder Psychic Talking Board
Amy Zerner and Monte Farber
This one just has it all. Done in a Native American motif, the Pathfinder Psychic Talking Board is a virtual cornucopia of easy to read symbols and words. Messages flow intuitively as the indicator spells out sentences using the alphabet, or cuts to the chase by landing on a sign in one of the concentric "wheels." Here is a board that is designed to grow with the user. It can be as simple or as complex as you wish, depending on your level of dedication and practice. Exquisitely designed for expert and novice alike. Complete with a comprehensive instruction manual. Board folds in quarters for easy storage. Available online from Amazon.
Be sure to visit The Enchanted World of Amy Zerner and Monte Farber. View picture
Psychic Circle
Amy Zerner and Monte Farber
Astounding is the only way to describe this highly detailed four-fold cardboard talking board. It has the complete zodiac along with many other symbols and markings similar to psychographs of years past. It is more of a fortune telling system than a simple message board. It comes with a round plastic message indicator and an instruction manual that will keep you busy for many hours, maybe days. Get it through your New Age store, book store, or directly from The Psychic Circle, Zerner/Farber Editions P.O. Box 2299 East Hampton, NY 11937. Buy online from Amazon.com.
View picture
Charmed Spirit Board
Sota Toys
Missing on television since season one, the Charmed Spirit Board comes back to life as an authentic reproduction by Sota Toys. How authentic is it? Compare the repro with the Sword and Stone original prop on our pictures page. The shape and letter layout are close but the Sota board lacks the beautiful wood grained look of the original. And you won't be using the planchette other than for decoration. It is made from the same weighty resin material as the board and is much too heavy. Still, this is significant piece for Charmed fans and for hard-core talking board collectors. The Charmed Spirit Board retails for a whopping $249.99 and is now sold out at Sota. Find it on eBay and on Internet sites (search Google) for the short term. View pictures
Hand-crafted Talking Boards
If you prefer a talking board with a unique personal touch, a hand-crafted board (made one at a time by hand, rather than mass produced) may be for you. Hand-crafted boards come in a variety of colors and designs, and may often be customized to fill certain special needs. These boards are usually made of wood, something the "big boys" can't afford, and this may be a decided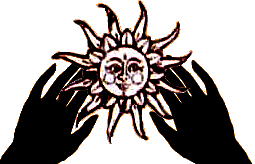 advantage for those who don't like boards made from cardboard. But there is a downside. Hand-crafted boards are usually more expensive than their store bought counterparts and can lack the fancy packaging of the mass merchandisers. You may be expected to provide your own message indicator. Instructions on how to use the board may be sparse or lacking altogether. There is also the smell of varnish or other sealers, something for you sensitive nose types to consider. You may have to wait a painfully long time for delivery depending on how swamped the artist is, so be sure to ask before you send any money. All of this may be secondary to acquiring a genuine work of art, and you can rest assured that you will have a bona fide original.
C. Blake Williams Mystical Talking Boards
C. Blake Williams
When Christopher Blake Williams calls his talking boards "museum quality functional art pieces" he isn't kidding and neither are we when we say that we can't rave enough about them. They are nothing short of fabulous. Each board is carved with such intricacy that you need a magnifying glass to see it all. Be amazed as you look closely to discover all the remarkable details. This plus careful staining and special inlays brings his work to a whole new level in the handcrafted talking board world. How does he do it? It must be magic. His planchettes reflect the same attention and each could stand alone as a unique art item. The viewing windows are carefully chosen watch crystals, if you can imagine that. Work like this takes an unbelievable amount of time and commitment. Get one now before he moves on to something else. Visit the fantoms.com website to see what we are talking about. Custom designs available. View pictures
For the Seekers Mystical Workshop
Jennifer Kast
Jennifer Kast is a graphic artist and designer and is blessed with one of those innovative talents that make you go "Wow!" when you see her stuff. One look is impossible with Jen's artwork and it's easy to get lost in the details. Obviously what she uses for inspiration comes from some place deep where we mortals never go. If you are any kind of a talking board collector worth your salt you are going to want one of her designs. Otherwise, you'll be kicking yourself later. She offers several different talking boards plus her line of marvelously weird Curious Gifts through her website and on eBay. They are all spectacular. View Picture
Mystery Oracle Board
Sunny Breeze
Gorgeous pewter ornamentations complement this pretty birch talking board set from Sunny Breeze. Check out the hand of fortune, a crystal ball, a mystical sarcophagus and the magic lamp adorning the corners. The sun doubles as a votive candle holder to light your session. Very clever! The crescent moon and star balance the board perfectly. This kind of detail on a talking board is very unusual and is something you almost always find attached to a huge price tag. The lettering and finish are just right and the matching planchette glides flawlessly under your fingers. This is what imagination and hand crafting are all about! Perfect for your first board or to round out your collection. Visit the Sunny Breeze website. View pictures
Talking boards
Habla Muerto
Yorkatron, the proprietor of Habla Muerto makes several interesting talking boards that you are sure to enjoy. They are manufactured from sturdy ¼ inch birch and have a beautiful clear lacquer finish. The two we examined, Gypsy Suzie and Death Speaks couldn't be more different or more original. York takes particular pride in his planchettes also and that is pleasant surprise. Planchettes are often neglected among custom board makers but not here. He makes a writing planchette also, so if you've been needing one of those, now is your opportunity. View pictures
Witch Hazel Press
Witch Hazel Press Talking Boards
Kerri McIntire's unusual talking boards feature the combined arts of flower pressing and black and white photography. She takes her original photos of cemetery statuary, adds an attractive floral potpourri, and then seals them under glass. The results are evocative and distinctive. When not actually using the board, it can double as a nice wall hanging. Look on the back for a full description of the photo, plants, and associated symbolism. A small glass disc slides ever-so-smoothly across the board and serves perfectly as the message indicator. A pretty draw-string pouch for the indicator is included. Visit the Witch Hazel Press website or Email them for more information. View pictures
Witchboard World
Dan Whitaker
Dan Whitaker is somewhat of a legend in the Ouija community. He's been making his witchboards since 1999 and has outlasted many fine talking board artists. His dedication to his craft is beyond reproach. Lately, he's introduced a new item, The Raimi Witchboard, to his offerings and it is very, very nice. It comes complete with a fine wood Planchette. You might even decide, as he suggests, to let the ancient wisdom of the Zulu Shaman be your spirit guide. Dan makes all of his boards by hand and never skimps on details or materials. He offers at least a dozen imaginative designs. One is sure to intrigue you. Visit his great site Witchboard World and buy one today. View picture
Accessories
What could be more fun than some interesting knickknacks to go along with your talking board collection? Ouija board T-shirts, coffee mugs and refrigerator magnets are not only fun but will make you the envy of your friends during your next big talking board jamboree. Talk about accessorizing! Unfortunately, these items come and go. We cried a river when a leading clothing manufacturer recently discontinued their Parker Brothers Ouija T-shirt line. Oh well, such is life! All we can say is that we will do our best to bring these things to you as they become available. Here is our hint for today: go to Amazon.com and check out the wide selection of Ouija
and talking board related items. They have it all.
Ouija Board Fonts
Harold Lohner
How would you like to have some free nifty Ouija board fonts for your computer? Harold at Harold's Fonts makes just what you need. We used his Cap'n Howdy font for the title of this page. His Sideshow font is a dead ringer for the early Kennard/Fuld alphabet. Imagine the possibilities.
Do you know of a talking board or accessory that should be added to this list? Please let us know. Be sure to check our Links and Acknowledgements page for other talking boards sites.
Site Map | Main | FAQ | History | Directions | Theories | Stories | Gallery
Ouija-stitions | Interactive | Books | Movies | Collect | Buy | Links | e-mail
You are visiting the Museum of Talking Boards
Copyright © 1996-2012. All Rights Reserved.