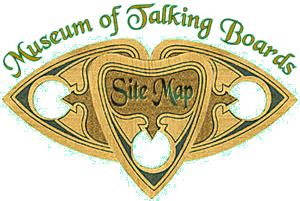 "Would you tell me, please, which way I ought to walk from here?"
"That depends a good deal on where you want to get to," said the Cat.
"I don't much care where—" said Alice.
"Then it doesn't matter which way you walk," said the Cat.
"—so long as I get somewhere," Alice added as an explanation.
"Oh, you're sure to do that," said the Cat, "If only you walk long enough."
Lewis Carroll, Alice's Adventures In Wonderland
Poor Alice. If only she had a site map perhaps she wouldn't have fallen down the rabbit hole. Here's a site map for you, weary web wanderers, and it's the best way to navigate the Museum of Talking Boards. We guarantee that you won't run into any rabbits here and any queens you run into will be good Ouija Queens. But only if you return to this page often. Happy traveling.
Introduction
History
Lore
Theories
Directions
Talking Board Gallery
Interactive Talking Boards
Currently Available Talking Boards
Miscellaneous
Copyright © 1996-2017 Museum of Talking Boards. All rights reserved. E-mail all inquires to Eugene Orlando, ouijamuseum@gmail.com. All photographs, scans and images are collectively copyrighted. Individual copyrights retained by their respective owners. Photographs, scans and images may not be used on other websites without written permission. All web pages on this website are copyrighted and may not be reproduced without written permission.